Heaven and Hell
William C. Nichols
Is hell real? Do all people go to heaven? Do heaven and hell really exist now? If hell is real, what kind of people go to hell? Many today in the United States believe that the only qualification necessary to go to heaven is to be better than Hitler or Osama Bin Laden. Even conservative Christian pastors teach that all that is necessary to go to heaven is to repeat the words of a prayer asking Jesus into your life. Is that in the Bible? These articles were written by William C. Nichols to explain what the Bible really teaches about heaven and hell. I would urge you to read both articles, because the consequences of being wrong about heaven and hell are eternal. You may go to church every week and think you are on the road to heaven, only to wake up in hell when you die.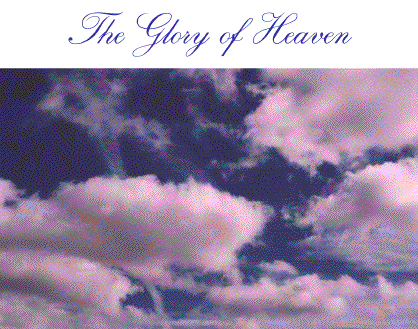 "Then the King will say to those on His right, 'Come,
you who are blessed by My Father, enter the kingdom
prepared for you from the foundation of the world'"
(Matthew 25:34).
"When a mortal man speaks anything of that eternal blessedness of the Saints in glory, he is like a blind man discoursing about the light which he has never seen, and so cannot distinctly speak anything concerning it."1 Likewise, for one to write of those things which are only vaguely described in Scripture is similar for a man to write a travel guide for a land he has never visited or seen. It is to attempt to describe the indescribable with words which cannot come close to expressing the glory of heaven. Paul wrote these words: "Things which eye has not seen and ear has not heard, and which have not entered the heart of man, all that God has prepared for those who love Him" (I Corinthians 2:9). Some question whether these words directly refer to heaven: they may not, but from all that we do know, they are certainly true of heaven and of the indescribable nature of that glorious place. Things which eye has not seen: can you imagine it? Men's eyes have seen abundant treasures upon the earth. Men have seen golden thrones, palaces, exquisite diamonds, rubies, and pearls. Men can conceive of handfuls of diamonds, fields of jewels, and buildings of gold, glittering in the noonday sun, but men cannot imagine the glory of heaven. It is beyond our imagination. Such is the task before us: to speak of the glory of heaven using words that cannot describe it; to try to picture for you that which cannot even be conceived by your heart.
Why be so concerned about heaven? What purposes will be served by doing so? There are several reasons which make it profitable to both hear and think about heaven: 1) The doctrine of heaven serves to comfort true believers on earth who are weary and struggling or under persecution. 2) Hearing of heaven should stir up believers to witness to friends and neighbors on earth who are not followers of Jesus Christ. Meditating on the glory of heaven and the frightening alternative should be one of the greatest incentives to evangelism there can be. And 3) The concept of rewards for obedience and of punishment for disobedience is a major theme throughout all of Scripture. Why would God do this if it were not to urge otherwise senseless men to consider eternity before it is too late? Hearing about heaven then is an incentive to the ungodly to turn to God now while there is still time. We will speak in more detail of these later. Let us now try to understand what the Bible tells us about what heaven is like.

A DESCRIPTION OF HEAVEN

Heaven is a place of unspeakable glory where the elect of God live with one another in the immediate presence of God and of the Lamb and where they behold Him in all His glory face to face. It is a place where the curse of sin and all of its effects have been removed forever from all who dwell there; they, being made joint heirs with Christ, inherit all things and live with unmixed joy in a state of perfect happiness incapable of being described or exaggerated forever and ever.
Heaven is called by Jesus Christ "a kingdom." "Come you who are blessed of My Father, inherit the kingdom prepared for you from the foundation of the world" (Matthew 25:34). It is called "the kingdom of God" (Acts 14:22). This tells us that the exceeding glory of this kingdom far outweighs the glory of all earthly kingdoms combined. This is a heavenly kingdom where Christ is King. Not only that, but those who live there with the Blessed One are declared by Christ to be "priests to His God and Father" (Revelation 1:6) and proclaimed by Peter as "a chosen race, a royal priesthood, a holy nation, a people for God's own possession" (I Peter 2:9). What kingdom is like unto this kingdom? What earthly kingdom can be compared to it? There are none.
Heaven is called "the third heaven" (II Corinthians 12:2) and "the heaven of heavens" (Deuteronomy 10:14) to show its great eminency. By this it is distinguished from the sky above, the atmospheric heaven, which is also called heaven, and the starry heaven containing all the celestial orbs: the sun, the stars, the planets, and moons of the universe. Think how vast and great are the starry heavens above. The heaven of heavens is far greater still. Here we see only the objects of creation. There God's children will see, worship, and dwell with the God who created the universe and everything in it.
In the parable of the unrighteous steward, Christ refers to heaven as "the eternal dwellings" or as one version translates it "the everlasting habitations" (Luke 16:9). This tells us that heaven is a place, not a dream or an illusion. It is a place where glorified saints and angelic beings live together with God. We are told that God "has prepared a city for them" and we are given a preview of the glory of this city in the book of Revelation: "Her brilliance was like a very costly stone, or a stone of crystal-clear jasper...the city was pure gold, like clear glass. The foundation stones of the city wall were adorned with every kind of precious stone...And the twelve gates were twelve pearls; each one of the gates was a single pearl. And the street of the city was pure gold, like transparent glass...the city has no need of the sun or of the moon to shine upon it, for the glory of God has illumined it, and its lamp is the Lamb" (Revelation 21:11, 18, 19, 21, 23). It is also a place that remains forever. It is called "eternal" or "everlasting" and of its inhabitants it is said, "neither can they die anymore, for they are like the angels, and are sons of God" (Luke 20:36). Those who go to heaven live in that glorious city for all eternity.
When Christ was dying on the cross the penitent thief next to Him made a request of the Lord: "Jesus, remember me when You come in Your kingdom!" Christ responded to him: "Truly I say to you, today you shall be with Me in Paradise" (Luke 23:42, 43). Heaven is called Paradise. Men often refer to an exotic, tropical island as "paradise," yet this paradise will make all earthly paradises look meager and barren.
In Luke 16 heaven is also called Abraham's bosom. Christopher Love helps us understand this expression better: "Dives saw Lazarus in Abraham's bosom. And it is so called, because as the bosom is the receipt of love, and the friend of your bosom is your dearest friend, so in glory they are said to be in Abraham's bosom to show that God will love and shelter His elect, as a friend will do to this dearest friend, the friend of his bosom."2 This is Paradise indeed!
Lastly, heaven is called "the joy of your master." The servant who acted wisely with his master's talents is welcomed into the kingdom of God with these words: "Well done, good and faithful slave; you were faithful with a few things, I will put you in charge of many things; enter into the joy of your master" (Matthew 25:23). Psalm 16:11 tells us: "In Thy presence is fulness of joy; in Thy right hand there are pleasures forever."
These expressions have given us a view of heaven which is like looking through a colored glass at a far distant kingdom which we cannot see clearly. Now we will look at the blessedness of heaven from two different perspectives. The first one will show us what those in heaven will be free from. The second will give us a better understanding of what the eternal blessedness of the soul consists.
The occupants of heaven shall be freed from sin itself, from the causes of sin, and from the consequences of sin. First, those who enter glory to live forever with God in heaven shall be free from sin itself. Sin is the cause of all the misery in the world. Sin is the reason we experience pain, sorrow, sickness, and even death. Paul mourns over sin and expresses in strongest language his desire to be rid of it: "Wretched man that I am! Who will set me free from the body of this death?" (Romans 7:24). The true child of God longs to be where he will sin no more: a place where he will never commit another sin; a place where he will never even have another sinful thought. Sin is the greatest enemy of the one who loves holiness. Here sin makes war upon you as the flesh lusts against the Spirit (Galatians 5:17). As the hymnwriter asks: Would you be free from your burden of sin? Bunyan's Pilgrim fled the city of destruction seeking relief from the great burden of sin which he carried about with him. Heaven is the place where sin will be no more. This is pictured beautifully in Revelation 21:3-4: "And God Himself shall be among them, and He shall wipe away every tear from their eyes; and there shall no longer be any death; there shall no longer be any mourning, or crying, or pain; the first things have passed away." Why are there tears? Why is there death? Why do men mourn, cry, and feel pain? It is all because of sin. Sin brings all of those evils upon man. In heaven men shall be free from sin.
Second, in heaven men shall be free from the causes of sin. There are three primary causes of sin: your sinful nature, the temptations of the devil, and the lure of the world. Your sinful nature is the source of the sins which you commit. James tells us: "Each one is tempted when he is carried away and enticed by his own lust. Then when lust has conceived it gives birth to sin" (James 1:14-15). Your sinful nature spews out poison, filth, and vileness every day of your life in this world. If the devil were chained up and not allowed to touch or tempt you, you would continue to sin because of the principle of sin which indwells you: "For I know that nothing good dwells in me, that is in my flesh" (Romans 7:18). In heaven your vile body shall be made like unto His glorious body and you cannot sin.
In heaven you will be free from the temptations of the devil. Here men are assaulted daily by the enemy of their souls. Here "your adversary, the devil, prowls about like a roaring lion, seeking someone to devour" (I Peter 5:8). On earth the devil seeks to sift you as wheat as he sought to do to Peter. Soon the devil shall be thrown into the lake of fire and be tormented day and night forever and ever (Revelation 20:10). Soon, if you are a true believer in Jesus Christ, "the God of peace will crush Satan under your feet" (Romans 16:20). In heaven there shall be no more devil to tempt saints to sin anymore.
In heaven men shall be free from the lusts of the world. These are described by John as "the lusts of the flesh and the lust of the eyes and the boastful pride of life" (I John 2:16). Here the world system seeks to press you into it's mold. Christians are constantly being bombarded by the ungodly influences of lust, greed, pride, etc. These ungodly influences working hand-in-hand with your corrupt nature bring much grief to your soul. In heaven the godly shall be free of the evil influence of the world for they will have overcome the world for all time through the blood of Jesus Christ.
Finally, in heaven men will be free from the consequences of sin. The primary consequence of sin is eternal punishment in hell. Scripture makes it clear that a person at death goes to either heaven or hell. There is no in between state or place, no purgatory, no other option. Those who go to heaven are spared the wrath of God which falls upon those in hell. They are delivered from "the wrath to come" (I Thes-salonians 1:10). Physical death which opens the door into eternity is also one of the consequences of sin. Death came originally, as a direct penal infliction upon man because of his sin for "the sting of death is sin" (I Corinthians 15:56), "but thanks be to God, who gives us the vic-tory through our Lord Jesus Christ. Death is swallowed up in victory" so that the child of God can boldly say, "Oh, death where is your victory? O death, where is your sting?" (I Corinthians 15:54, 55, 57).
We shall now look at what the eternal blessedness of the soul consists of in heaven. Paul said, "Now we see through a glass darkly" (I Corinthians 13:12). Certainly, the picture we now try to describe is dark indeed compared to the true glory of heaven. Who can imagine the things we now try to describe? "We shall never understand glory fully till we are in heaven. Let me give you some dark views only, some imperfect lineaments of that state of glory at which the saints shall arrive after death."3 The blessedness of the soul in glory consists of at least three things: 1) the seeing of God, 2) the perfection of graces in the believer, and 3) fulness of joy.
"Blessed are the pure in heart, for they shall see God" (Matthew 5:8). The saints in heaven shall see God in all His majesty. They shall behold the infinite glory of the Almighty One in as great a capacity as they are capable of. They shall not behold Him only at a distance, but "face to face" (I Corinthians 13:12). This is what the blessedness of the saints in glory chiefly consists of: the beholding of God. Yet it is impossible that a finite man should comprehend God. Revelation 22:5 describes some of the glory of seeing God: "And there shall no longer be any night; and they shall not have need of the light of a lamp nor the light of the sun, because the Lord God shall illumine them." The glory of God will swallow up the light of the sun as the brilliance of the sun now dispels the darkness of night.
The Father will not directly manifest Himself to those in heaven for we are told in the Scriptures that God is invisible: "Now to the King eternal, immortal, invisible, the only God, be honor and glory forever and ever. Amen" (I Timothy 1:17). It is said of Christ that "He is the image of the invisible God" (Colossians 1:15). The Father will not need to manifest Himself in any other way than through the glory and majesty of the exalted Christ. The Lord told His disciples on the night before He died: "He who has seen Me has seen the Father" (John 14:9). Jonathan Edwards described the believer's seeing Christ in glory this way: "The seeing God in the glorified body of Christ, is the most perfect way of seeing God with the bodily eyes that can be; for in seeing a real body, which one of the Persons of the Trinity has assumed to be His body, and in which He dwells forever as his own, the divine majesty and excellency appear as much as it is possible for them to appear in outward form or shape...They shall see Him, as appearing in His glorified human nature, with their bodily eyes; and this will be a most glorious sight. The loveliness of Christ as thus appearing will be a most ravishing thing to them; for though the bodies of the saints shall appear with an exceeding beauty and glory, yet the body of Christ will without doubt immensely surpass them, as much as the brightness of the sun does that of the stars. The glorified body of Christ will be the masterpiece of all God's workmanship in the whole material universe. There shall be in his glorious countenance the manifestations of His glorious spiritual perfections, His majesty, His holiness, His surpassing grace, and love, and meekness. The eye will never be wearied with beholding this glorious sight."4
Not only will they see Christ face to face, but they will walk with Him and talk with Him. Christ shall treat them as brothers and shall speak to them as His intimate friends. Just before His crucifixion, Christ told His disciples: "No longer do I call you slaves, for a slave does not know what his master is doing; but I have called you friends, for all things that I have heard from My Father I have made known to you" (John 15:15). If Christ could say this to His disciples while they were still clothed in their sinful natures, do you think He will not admit them nearer to Him in heaven when they have been fully purged of all stain and iniquity and stand before His throne spotless clothed in His blood? Certainly he will. The Scriptures speak of God's living with and among His people in glorious terms: "Behold the tabernacle of God is among men, and He shall dwell among them, and they shall be His people, and God Himself shall be among them...and they shall see His face, and His name shall be on their foreheads" (Revelation 21:3; 22:4).
Secondly, those who are admitted to heaven shall enjoy the perfection of all their graces. We shall look at three graces particularly: 1) the grace of knowledge, 2) the grace of holiness, and 3) the grace of love.
First, the grace of knowledge shall be perfected in glory. "For now we know in part, and prophesy in part; but when the perfect comes, the partial will be done away...For now we see in a mirror dimly, but then face to face; now I know in part, but then I shall know fully just as I also have been fully known" (I Corinthians 13:9-10, 12). Now our knowledge of divine things is shallow and indistinct. We do not perceive things clearly. We are sluggish in our understandings. Then we shall know, as Christ now knows us. The grace of knowledge shall be perfected in the godly in heaven. The godly shall understand more fully Christ as Mediator between God and men. They shall understand the mystery of the incarnation, of God becoming man. To as great a degree as possible, those in glory shall understand the mystery of the Trinity. They shall understand the plan of salvation and how divine providence worked in all the circumstances of their lives. There all the difficulties, trials, and dark providences of life shall be seen as a glorious entity which will testify to the truth that "all things work together for good to those who love God" (Romans 8:28). They shall understand the excellencies of Christ to as full a degree as they are capable. The knowledge of God shall be full, yet God shall not be fully known, for man can never completely comprehend the Godhead.
The grace of holiness shall be perfected in all who are received into glory. "We know that when He appears, we shall be like Him" (I John 3:2). Holiness is the transcendent beauty of God and the angels. Holiness is primary among the attributes of God. "Holy, holy, holy is the Lord of hosts" (Isaiah 6:3) is the cry of the seraphim who constantly attend Him in glory. In heaven holiness will be perfected in the believer. Sin shall be no more. Then the words of God shall fully be brought to pass: "You shall be holy, for I am holy" (I Peter 1:16). Holiness is the fervent desire of the saint as he travels through this world of sin. There the saints shall be as the angels of God. There, as much as can be, they shall be like Christ Himself. They shall be holy.
In heaven the grace of love shall be perfected. On earth love to God is expressed in fits and spasms. Sinful flesh and self-interest dampen and hinder love to God. We cannot love God as we ought or even as we would like to. Although the spirit in the child of God desires with all that is within him to do what the Scripture says, to "Love the Lord your God with all your heart and with all your soul and with all your might" (Deuteronomy 6:5), it cannot be done perfectly here. But as he in his heart desires to do so, God accepts the desire in the believer as if the action were done perfectly. In heaven, unhindered love shall flow forth to God as none have ever experienced on earth. God shall be loved completely and fully and the saints shall love one another without carnality or selfishness being present.
Thirdly, those who are in heaven shall experience fulness of joy. "In Thy presence is fulness of joy; in Thy right hand are pleasures forever" (Psalm 16:11). Fulness of joy could be described as experiencing the bountiful love of God to them as the waters of an ocean. Others, who have a far greater understanding of this than I do, have described it in this way: "From this glorious manifestation of God's love will flow infinite joy into the souls of the blessed; therefore heaven is called 'entering into the joy of our Lord' (Matthew 25:21). The seeing of God, loving God, and being beloved of God will cause a jubilation of spirit, and create such holy raptures of joy in the saints, that are unspeakable and full of glory."5 "They shall see in Him all that love desires. Love desires the love of the beloved. So the saints in glory shall see God's transcendent love to them; God will make ineffable manifestations of His love to them. They shall see as much love in God towards them as they desire; they neither will nor can crave any more...When they see God so glorious, and at the same time see how greatly God loves them, what delight will it not cause in the soul! Love desires union. They shall therefore see this glorious God united to them, and see themselves united to Him. They shall see that He is their Father, and that they are His children. They shall see God gloriously present with them; God with them; and God in them; and they in God. Love desires the possession of its object. Therefore they shall see God, even their own God; when they behold this transcendent glory of God, they shall see Him as their own."6 The one in glory shall enjoy God as far as their capacity allows.
The Psalmist wrote of the great blessing attending the worship of God in His temple: "How blessed are those who dwell in Thy house! They are ever praising Thee...For the Lord God is a sun and shield; the Lord gives grace and glory; no good thing does He withhold from those who walk uprightly" (Psalm 84:4, 11). Those in heaven shall rightly say: "How blessed are those who stand in Thy very presence!" If the Lord withholds nothing on earth from those who walk uprightly, shall He then withhold any of the glory of heaven from His redeemed?
Here we enjoy God primarily through His Word, ordinances of worship, and prayer. There we shall enjoy Him "face to face." "Here you have God in expectation, but there you shall have Him in possession."7 There the saints in glory shall be filled with joy through the eternal enjoyment of the manifestation of God in all His attributes. It will greatly add to the joy and rejoicing of those in glory when they contemplate God's mercy shown to them in salvation and how they deserved to be among the damned, but were spared the torments of hell solely because of God's sovereign mercy given to them. Ministers will rejoice with those whom they led to the knowledge of Christ and the fruits of their labors will be fully seen there. Paul writes of this joy in I Thessalonians 2:19: "For who is our hope or joy or crown of exultation? Is it not even you, in the presence of our Lord Jesus at His coming?" Other things will undoubtedly contribute to their joy, such as their being with loved ones and the saints of all the ages, the contemplating of God's providences toward them on earth, being in the heavenly city, but the greatest joy of all will come from being in His presence!

QUESTIONS ANSWERED

Christians and non-Christians often have questions about life after death and very often the questions are the same. In this section we shall look at several common questions people ask about heaven. We shall explore these issues: 1) What happens when a Christian dies? 2) Will those in heaven know each other? 3) Will those in heaven sorrow over loved ones who are in hell? And 4) Are there different degrees of glory and rewards in heaven?
What happens when a Christian dies? Does he go to heaven immediately upon death or does he lie in the grave in a state of soul sleep awaiting the resurrection? Is he conscious or unconscious?
Christ and the Scriptures give us a clear answer to this question. In Luke 16 the Lord Jesus tells us of two men who died, one was ungodly and the other was a godly man named Lazarus. Both were conscious immediately after death. Our purpose here is to inquire into what happened to Lazarus, the godly man, at the time of his physical death. Christ tells us: "Now it came about that the poor man (Lazarus) died and he was carried away by the angels to Abraham's bosom" (Luke 16:22). Angels met Lazarus upon his departure from this earthly life and carried him into glory. While Lazarus' body lay rotting in the grave, his soul was transported by the wings of holy angels into heaven. Christ confirms this very thing in his response to the thief on the cross when He told the thief: "Truly I say to you, today you shall be with Me in Paradise" (Luke 23:43). Some might doubt that the Paradise Christ referred to was really heaven; however, Paul uses the same word to describe the third heaven saying that he "was caught up into Paradise, and heard inexpressible words, which a man is not permitted to speak" (II Corinthians 12:4). The true follower of Christ goes to be with Christ in heaven immediately after death.
Paul speaks of this issue in several places. One is found in Philippians 1:21-23: "For me to live is Christ, and to die is gain. But if I am to live on in the flesh, this will mean fruitful labor for me; and I do not know which to choose. But I am hard-pressed in both directions, having the desire to depart and be with Christ, for that is very much better." And in a similar passage: "Therefore, being always of good courage, and knowing that while we are at home in the body we are absent from the Lord...we are of good courage, I say, and prefer to be absent from the body and to be at home with the Lord" (II Corinthians 5:6 & 8). Several observations can be made from these Scriptures. The first is that Paul considered dying to be gain to him. How could this be true if all death meant was that he would lie in a grave unconscious and rot for thousands of years? Paul also tells us that when he departed this life he would go to be with Christ and that to do so was "very much better" than continuing to live here. In II Corinthians, Paul contrasts living in the body and therefore being apart from Christ, with dying (being absent from the body) and being with Christ. For Paul, and all true godly persons, death means that the soul goes to be with Christ, carried there by holy angels while the physical body lies in the grave to await the resurrection and the reuniting of soul and body. Oh, how this should comfort the godly who are ill and near death! How this should be of great assurance to those godly ones who may now have a fear of death. Death brings a glorious transition to the believer. Death ushers him into the presence of Christ and glory! Oh, then you who are godly, do not fear death as an enemy, but be willing to welcome it as a friend when your appointed time comes. Death is the key that unlocks the door to everlasting happiness for the saint.
Will those in heaven recognize their friends, relations, and those they knew on earth there? Shall believers not know anyone when they get to glory? Shall the godly know all those in glory or just those whom they knew on earth?
Let me answer first from inference. If the damned in hell were to be shown to recognize the godly in heaven, then would you not think that the godly should at least know each other there? Let us look again at Luke 16:22-24: "And the rich man died and was buried. And in Hades he lifted up his eyes, being in torment, and saw Abraham far away, and Lazarus in his bosom. And he cried out, 'Father Abraham, have mercy on me, and send Lazarus...'" Dives, the rich man in hell, recognized Lazarus, whom he knew in his lifetime, and also Abraham, whom he had never seen or met. Certainly, the glorified saints in heaven know as much as the damned in hell do, don't they? By inference we conclude that the godly do know each other in heaven.
When Christ stood on the mount of transfiguration Moses and Elijah appeared with Him and were immediately recognized by Peter: "And Elijah appeared to them along with Moses; and they were conversing with Jesus. And Peter answered and said to Jesus, 'Rabbi, it is good for us to be here; and let us make three tabernacles, one for You, and one for Moses, and one for Elijah'" (Mark 9:4-5). If Peter and the apostles knew glorified saints in heaven when they were yet mortal and on the earth, then much more so will the godly recognize their friends and even those whom they never knew on earth when they come to glory; for Abraham also recognized Dives, a man in hell, whom he had never met on earth and Abraham even knew details of his life (Luke 16:25-26). Christ speaks of the damned on judgment day weeping when they "see Abraham and Isaac and Jacob and all the prophets in the kingdom of God, but yourselves being cast out" (Luke 13:28).
Thus we have abundant evidence that the glorified saints will know not only their earthly acquaintances, but will know all those in glory as soon as they arrive there. If you are godly, you shall see Moses, and know him, and he will know you; you shall see Paul, Noah, Peter, the prophets and the apostles and know them, and they shall know you. Husband and wife shall know each other. Sons and daughters shall see their fathers and mothers. Ministers shall see those whom they led to Christ on earth. This will greatly heighten the joy of saints as they rejoice forever with all the saints of all the ages. What a wonderful day that will be for the godly!
Will those in heaven sorrow and weep for persons whom they knew and loved in this world who are being tormented in hell? We have already established that those in heaven both see and recognize those in hell. Both Abraham and Lazarus knew Dives and were able to see him being tormented in hell. That hell is visible from the gates of heaven is confirmed in Isaiah 66:23-24: "'All mankind will come to bow down before Me' says the Lord. 'Then they shall go forth and look on the corpses of the men who have transgressed against Me. For their worm shall not die and their fire shall not be quenched; and they shall be an abhorrence to all mankind.'" Those in hell are said to be an abhorrence to all those who worship God in heaven. This may seem strange at first until we probe into why this is.
Revelation 16:5-7 gives us a look into the portals of heaven as we see angels and glorified saints praising God for His judgment of the wicked on earth: "And I heard the angel of the waters saying, 'Righteous art Thou who art and who wast, O Holy One, because Thou didst judge these things; for they poured out the blood of saints and prophets, and Thou hast given them blood to drink. They deserve it.' And I heard the altar saying, 'Yes, O Lord God, the Almighty, true and righteous are Thy judgments.'" Angels and saints in heaven rejoice in the punishment of the wicked, not because it is punishment for punishment's sake, but because it is perfectly just and righteous punishment, fully deserved by those who are suffering it. They will rejoice in seeing the justice and power of God glorified in this manner.
The saints in heaven have a far greater concern for the glory of God than the most zealous believer on earth. Jonathan Edwards spoke of the reaction of the saints in glory to the sufferings of the wicked in hell in his sermon The End of the Wicked Contemplated by the Righteous: "The saints in glory will see how the damned are tormented; they will see God's threatenings fulfilled, and His wrath executed upon them. When they see it, it will be no occasion of grief to them...It will be an occasion of their rejoicing, as the glory of God will appear in it. The glory of God appears in all His works: and therefore there is no work of God which the saints in glory shall behold and contemplate, but what will be an occasion of rejoicing to them. God glorifies Himself in the eternal damnation of the ungodly men...The saints in heaven will be perfect in their love to God: their hearts will be a flame of love to God, and therefore they will greatly value the glory of God, and will exceedingly delight in seeing Him glorified...They will therefore greatly rejoice in all that contributes to that glory. The glory of God will in their esteem be of greater consequence, than the welfare of thousands and millions of souls."8
Other Scriptures bear out this teaching: that those in heaven will, in fact, rejoice at the just sufferings of the damned: "Rejoice over her, O heaven, and you saints and apostles and prophets, because God has pronounced judgment for you against her" (Revelation 18:20). "'Hallelujah! Salvation and glory and power belong to our God; because His judgments are true and righteous; for he has judged the great harlot who was corrupting the earth with her immorality, and has avenged the blood of His bondservants on her.' And a second time they said, 'Hallelujah! Her smoke rises up forever and ever'" (Revelation 19:1-3). Likewise Moses rejoiced and sang God's praises when he saw God's glory manifested in the destruction of Pharaoh and all his forces (Exodus 15:1-12) and Proverbs 21:15 tells us: "The execution of justice is joy for the righteous."
It is not from a lack of love that the saints in heaven will rejoice at the punishment of the wicked, but because their love has been perfected and they now see things just as God does. They will then hate sin with a perfect hatred and see the absolute vileness of the practitioners of sin who rejected the councils of God and they will abhor them. Saints in heaven love what God loves and hate what God hates. Edwards continues: "However the saints in heaven may have loved the damned while here, especially those of them who were near and dear to them in this world, they will have no love for them hereafter."9
Christians here on earth are to love, pray for, and seek the salvation of all because there exists the possibility that even the most wicked man might receive the grace of God and be saved. In eternity no such possibility exists. The ungodly there are in the same condition as the demons are here: unredeemable and beyond hope. Do you weep oceans of tears for demons now? Do you pray fervently that they might be saved? Why not? Is it not because they are thoroughly evil and beyond all hope of salvation? So it is with the ungodly there. There the Scripture will be fulfilled which says, "Let the one who does wrong, still do wrong; and let the one who is filthy, still be filthy" (Revelation 22:11). There the ungodly will be seen by the saints through holy eyes for what they are and will be for all eternity: wrongdoers, filthy, vile, haters of God. And through holy eyes "a reprobate is despised" (Psalm 15:4).
Are there different degrees of glory in heaven? Do those who labor more for God's kingdom and glory here on earth receive a greater degree of honor and glory there? If so, will this not cause problems as it does here?
The first evidence we have of different degrees of glory comes from what is sometimes called the law of contraries. Are there different degrees of torment in hell? If so, then, by the law of contraries, we could logically deduct that there will be different degrees of glory in heaven. In Luke 12:47-48 we are told of those who will "receive many lashes" and whose who "will receive but few." There are different degrees of punishment in hell, thus we conclude that likewise there will be different degrees of blessedness in heaven.
II Corinthians 5:10 and I Corinthians 3:8 tell us the basis for the difference: "For we must all stand before the judgment seat of Christ that each one may be recompensed for his deeds in the body, whether good or bad." "Each will receive his own reward according to his own labor." It is apparent that free rewards are promised to believers in glory which will be equivalent to what we have done in our labors for the Lord here on earth. The Scripture speaks of the one who receives "a prophet's reward" (Matthew 10:41) which seems to distinguish it as being different than the ordinary reward. Christ taught His disciples that whoever gave to them "a cup of water to drink" in His name would not lose his reward (Mark 9:41). This would not be possible if there were no recognition of good works in heaven.
Other Scriptures state quite clearly that a difference will be made between believers in glory. Daniel is told that "those who have insight will shine brightly like the brightness of the expanse of heaven, and those who lead many to righteousness, like the stars forever and ever" (Daniel 12:3). And Paul compares the difference between the sun, moon, and stars and applies it to believers in glory: "There is one glory of the sun, and another glory of the moon, and another glory of the stars; for star differs from star in glory. So also is the resurrection of the dead" (I Corinthians 15:41-42). Paul is saying that just as one star shines more brightly than another in the sky, so one saint shall shine with more heavenly glory than another when the dead are raised to receive the things done in the body. One shall be more glorious than another based on how they have lived, what they have done for Christ, while living on earth. This is plainly taught in the parable of the talents as well, where one man was put in authority over ten cities and another over five (Luke 19:12-19).
"The saints are like so many vessels of different sizes cast into a sea of happiness where every vessel is full: this is eternal life, for a man to have his capacity filled. But after all tis left to God's sovereign pleasure, tis His prerogative to determine the largeness of the vessel."10 Each person will be filled to their capacity with blessedness and joy. None will lack anything. But there will be those who have a greater capacity for joy than others. Christopher Love explains: "Though there be degrees of glory, yet this doth not imply, that there shall be defects or want (lack) of glory in heaven to any glorified persons, but every person shall be as full of glory as he can hold, or is capable of. Perkins explains it by a clear demonstration. Take a little vessel and a great vessel, and cast both these into the sea, both these vessels will be full, yet there is not in the little vessel as in the great, though both are full. So, saith he, the godly are like two vessels, yet one, by reason of the enjoyment of God, is more capacious (spacious) to take in more of God than the other is, yet the least saint shall be full of glory; he that hath least glory, shall have glory sufficient, though not glory equal with some glorified saints: so that degrees of glory doth not argue any defect in those persons that have less glory than others have."11 Jonathan Edwards believed that the degree of glory or reward would be determined by four factors: degrees of grace and holiness here, degree of good that is done, self-denial and suffering, and eminency in humility.12 All will be filled vessels, but of different sizes. All shall wear crowns, some with a greater luster than others. Holiness and happiness shall be greater in some than in others throughout all eternity.
The presence of different degrees of glory in heaven does not mean that such a thing as envy will exist in heaven. All love will be perfected in heaven and thus it will be as the Apostle wrote: "If one member is honored, all members rejoice with it" (I Corinthians 12:26). The saints in glory will think it is right that those who excelled others in works of righteousness and bringing glory to God on earth should receive greater glory in heaven. Men will bless God for the radiance of His glory shining through other men, for envy and sin will have no part in His kingdom.
I will offer only limited application of this here and more fully apply it in the next section. Believers, your eternal state rests upon what you do here on earth. "Now this I say, he who sows sparingly, shall also reap sparingly; and he who sows bountifully shall also reap bountifully" (II Corinthians 9:6). Would you seek the best eternity possible? Then live your life fully for God's glory today. Tomorrow may be too late. Your present life will determine your future state of glory, but more on this later.

APPLICATION TO BELIEVERS AND UNBELIEVERS

"And a highway will be there, a roadway, and it will be called 'the highway of holiness.' The unclean will not travel on it, but it will be for him who walks that way, and fools will not wander on it" (Isaiah 35:8). One of the fears I have in writing of the glory of heaven is that there is a natural tendency for carnal men to apply a pleasing doctrine to themselves when they have no legitimate basis for doing so. Heaven is not to be obtained by the lazy and slothful, nor the unclean and profane, not even by those who are regular church attenders if they are not holy in their lives and practice. The highway to heaven is indeed "a highway of holiness" and it is for "him who walks that way," that is, for the one who lives a holy life. In a sermon preached by Jonathan Edwards in the early 1720's, Edwards noted: "If everyone that hoped for heaven got there, heaven by this time would have been full of murderers, adulterers, common swearers, drunkards, thieves, robbers, and licentious debachers."13
Christ said: "Blessed are the pure in heart, for they shall see God" (Matthew 5:8). Heaven is for the one whose heart is pure. Heaven is for the one who lives a holy life. Heaven is for the one who loves Jesus Christ more than all other people and all other things. "Tis therefore exceedingly absurd, and even ridiculous, for any to pretend they have a good heart, while they live a wicked life, or don't bring forth the fruit of universal holiness in their practice. For tis proved in fact, that such men don't love God above all. Tis foolish to dispute against plain fact and experience. Men that live in ways of sin, and yet flatter themselves that they shall go to heaven, or expect to be received hereafter as holy persons, without a holy life and practice, act as though they expected to make a fool of their Judge."14
Do not assume that because you desire to go to heaven, that you will. Be willing to strictly examine your heart to see if you have any sound reason to hope for heaven. Ponder these questions in your heart: Were you ever thoroughly convicted of your sinful heart and nature? Have you seen yourself as vile in your own eyes? Do you live in the practice of any hidden or secret sin? Do you hate all sin as sin? Which dominates your affections, thoughts, and desires more: the world or Jesus Christ? Do you love Christ more than father, mother, husband, wife, son, or daughter? Do you love Jesus Christ for who He is or just what He can do for you? Do you love a life of holiness and obedience to the Word of God or is it burdensome to you? When you do good things, do you do them to glorify God or so that men will praise and love you for them? Do you really love God or do you just fear His threats of judgment against you? Do not read over these questions quickly and hurry on, but search your hearts with them. Many who profess to be Christians today are simply outwardly religious, but their hearts have never been changed by the regenerating power of the Spirit of God.
Is heaven a glorious kingdom, a city of pure gold, a Paradise? Then you who are unconverted or who are falsely persuaded of your good condition do not lose this place for the bobbles, trifles, and trinkets of the world! Nothing you can desire or acquire on earth compares with the glory of heaven. Is heaven called Paradise? Will you forego seeking a heavenly paradise for an earthly one? Would you rather lie in the bed of Delilah and then drink from the fires of hell, or have your eternal home by the throne of God and the Lamb and drink from the river of the water of life? Did Christ say in His Father's house were many mansions? Then do not waste all your time and money building an earthly mansion for yourself. Your earthly house will not last. One day it will be leveled to the ground. It is of no eternal value. A house in heaven is an everlasting habitation. Jesus Christ said, "Do not lay up for yourselves treasures upon earth, where moth and rust destroy, and where thieves break in and steal. But lay up for yourselves treasures in heaven...for where your treasure is, there will your heart be" (Matthew 6:19-21). The pursuit of temporary lusts and pleasures on earth at the expense of a heavenly kingdom is the act of a simpleton. Esau sold his inheritance for a bowl of chili. Do you think he made a good bargain? Your lips may say 'no,' but what does your life say?
Have you ever really meditated upon the brevity of life? Truly, we are here today and gone tomorrow. James expressed it this way: "Yet you do not know what your life will be like tomorrow. You are just a vapor that appears for a little while and then vanishes away" (James 4:14). Man's life is variously described in God's word as "a mere breath" (Psalm 39:5); "a flower of the field" (Psalm 103:15); "grass that withers" (James 1:11); "a shadow" (Job 14:2); and "a phantom" (Psalm 39:6). Everything in this life is uncertain. Riches may be lost in a day (Ecclesiastes 5:14). A man who seems to be robust and healthy one day may be stricken with sickness the next day (Job 2:7). Friends or close relatives may die (II Samuel 19:4). Why should you invest your life for that which is transcient and passing away? Most today live as if earth is the only heaven there is. "Their inner thought is, that their houses are forever" (Psalm 49:11). But hear the Word of God: "But man in his pomp will not endure...For when he dies he will carry nothing away; his glory will not descend after him. Though while he lives he congratulates himself" (Psalm 49:12,17-18). Is it worth gambling away eternity for that which is temporary, uncertain, and passing away? Heaven is a kingdom that endures forever; so does hell.
Finally, I would have you consider both your body and your soul. People spend countless hours decorating their faces and cleaning and perfuming their bodies. Vain persons spend thousands of dollars for face lifts and plastic surgery in an effort to appear more beautiful to themselves and other equally vain persons. Jesus Christ calls His followers to a different set of values: "Do not be anxious for your life, as to what you shall eat, or what you shall drink; nor your body, as to what you shall put on. Is not life more than food, and the body than clothing?" (Matthew 6:25). Your soul is far more valuable than your body. Your body will die and rot in the grave. Your soul will live forever. "What is a man profited, if he gain the whole world, and lose his own soul?" (Matthew 16:26). How much time do you spend taking care of your body? How much time do you invest in seeking eternal life for your soul? Which is most important? Men will risk the destruction of their bodies and their lives to fight to obtain an earthly kingdom. Is not a heavenly kingdom worth much more?
The presence of different degrees of glory in heaven should stir up within the godly the desire to strive more diligently to bring greater glory to God on earth. The more holy violence we put forth in the exercise of duty here, the greater will be our glory there. Paul uses this very example in I Corinthians 9:24: "Do you not know that those who run in a race all run, but only one receives the prize? Run in such a way that you may win." Jonathan Edwards believed that ministers need not apologize for an appeal to good works on the basis of rewards and stated, "Persons need not and ought not to set any bounds to their spiritual and gracious appetities...We ought to seek high degrees of glory in heaven."15 Thomas Watson agreed, writing: "Consider then seriously, the more violent we are for heaven and the more work we do for God, the greater will be our reward. The hotter our zeal, the brighter our crown. Could we hear the blessed souls departed speaking to us from heaven, surely they would say, 'Were we to leave heaven awhile and to dwell on the earth again, we would do God a thousand times more service than we have ever done; we would pray with more life, act with more zeal; for now we see that the more we have labored, the more astonishing is our joy and the more flourishing our crown.'"16 Moses is said by the writer of Hebrews to have considered "the reproach of Christ greater riches than the treasures of Egypt; for he was looking to the reward" (Hebrews 11:26). Solomon exhorts the people to "Cast your bread on the surface of the waters, for you will find it after many days" (Eccelsiastes 11:1). And Paul reminds us "he who sows bountifully shall reap bountifully" (II Corinthians 9:6). Seek then to lay up greater treasures in heaven by your zealousness for God's glory on earth.
By way of general application I will mention several things briefly. It is of utmost importance that those who believe they are God's children should labor for a true scripturally-grounded assurance that they are, in fact, heirs of heaven. Do not expect to be among the glorified in heaven, if you have brought no glory to Jesus Christ here on earth. "Every tree that does not bear good fruit is cut down and thrown into the fire" (Matthew 7:19). Peter admonishes men to "be all the more diligent to make certain about His calling and choosing you" (II Peter 1:10). Remember, Christ Jesus has said that "few" are those who find the kingdom of heaven. Are you sure you are numbered among those "few" who will be in heaven? Salvation is a much rarer work than is generally imagined.
For those who have lost friends or relatives who were godly do not grieve excessively for them. Paul wrote this message of encouragement to the Thessalonians who were concerned about the state of their departed loved ones: "But we do not want you to be uninformed, brethren, about those who are asleep, that you may not grieve, as do the rest who have no hope. For if we believe that Jesus died and rose again, even so God will bring with Him those who have fallen asleep in Jesus...Therefore comfort one another with these words." (I Thessalonians 4:13-14, 18). The doctrine of heaven should also help support the godly as they face death themselves. This world is the worst place you will ever live in, if you are Christ's. Death is a passageway into glory for the believer. Death is the end of all suffering, evil, sin, and pain. Death means that "we shall see Him as He is" (I John 3:2).
The doctrine of heaven should be an encouragement to believers to abstain from sin. Far from encouraging loose living among believers, a proper understanding of the doctrine of heaven with its rewards and degrees of glory should motivate them to stop sinning on earth. "Therefore do not let sin reign in your mortal bodies that you should obey its lusts" (Romans 6:12). Do not let your bodies be instruments of dishonor to God. "O Beloved, you shall see God with these very eyes you have now in your heads. You that are the elect of God, you shall sing Hallelujahs in heaven with this very tongue with which you converse among men. You shall lift up your hands in praises to God: Do not now use them, in the Apostle's phrase, as the weapons of unrighteousness to war against heaven. Do not use your eyes to be windows to lust, and your tongue to be tipped with frothy discourse, your hands to deceive, and your feet swift to shed blood. O do not use the members of your bodies, that are to be glorified with Jesus Christ in such sinful practices as these are."17
The doctrine of heaven should be of great comfort to those who are weary, suffering, or enduring persecution in this life. Christian, now you are nearer to your journey's end than when you first began. The time you have left on earth is miniscule when measured by eternity. The Hebrew Christians were reminded of their former victories in the time of trial and encouraged not to throw away their faith in the midst of present sufferings, "knowing that you have for yourselves a better possession and an abiding one" in heaven (Hebrews 10:34). Peter wrote to persecuted believers: "If you are reviled for the name of Christ, you are blessed, because the Spirit of glory and God rests upon you" (I Peter 4:14). In the time in which we live those who stand boldly for the truth will be ridiculed and slandered even by those who profess to be godly. Jesus Christ had special words for such as these: "Blessed are you when men revile you, and persecute you, and say all kinds of evil against you falsely, on account of Me. Rejoice, and be glad, for your reward in heaven is great, for so they persecuted the prophets who were before you" (Matthew 5:11-12). He who unjustly stains your name upon earth, unwillingly adds to your reward in heaven.
Finally the glory of heaven should make you extremely zealous for the conversion of souls while you are here. Do you wish to be with your as yet unconverted friends, relatives, and acquaintances in glory? Then labor with all your might for their conversion. Do not be selfish with your time, seeking after your own happiness, you are called to arms, to battle against the devil and all his forces, taking the gospel to the ends of the earth. Seek diligently the eternal welfare of others! "How shall they call upon Him in whom they have not believed? And how shall they believe in whom they have not heard? And how shall they hear without a preacher?" (Romans 10:14). Remember the words spoken to Daniel: "And those who have insight will shine brightly like the brightness of the expanse of heaven, and those who lead many to righteousness, like the stars forever and ever" (Daniel 12:3). They will shine brightly like the stars, forever and ever.

"How shall we escape if we neglect so great a salvation?"
(Hebrews 2:3).
1 Paraphrased from Gregory's Morals quoted by Christopher Love, Heaven's Glory, Hell's Terrors, (London: John Rothwell, 1655), p. 87.
2 Christopher Love, Heaven's Glory, Hell's Terrors, (London: John Rothwell, 1655), p. 101.
3 Thomas Watson, Body of Divinity, (Grand Rapids: Baker Book House, 1979), p. 209.
4 Jonathan Edwards, The Works of Jonathan Edwards, Volume 2, (Edinburgh: Banner of Truth, 1974), pp. 899 & 900.
5 Thomas Watson, Body of Divinity, (Grand Rapids: Baker Book House, 1979), p. 210.
6 Jonathan Edwards, The Works of Jonathan Edwards, Volume 2, (Edinburgh: Banner of Truth, 1974), p. 901.
7 Christopher Love, Heaven's Glory, Hell's Terrors, (London: John Rothwell, 1655), p. 93.
8 Jonathan Edwards, The Works of Jonathan Edwards, Volume 2, (Edinburgh: Banner of Truth, 1974), p. 208-209.
9 Ibid, p. 209.
10 Jonathan Edwards quoted by John Gerstner, Heaven & Hell, (Grand Rapids: Baker Book House, 1980), pp. 21-22.
11 Christopher Love, Heaven's Glory, Hell's Terrors, (London: John Rothwell, 1655), p. 99.
12 Jonathan Edwards quoted by John Gerstner, Heaven & Hell, (Grand Rapids: Baker Book House, 1980), p. 22.
13 Ibid, p. 10.
14 Jonathan Edwards, Religious Affections, (Binghamton, NY: Yale University Press, 1959), p. 426.
15 Jonathan Edwards quoted by John Gerstner, Heaven & Hell, (Grand Rapids: Baker Book House, 1980), pp. 23.
16 Thomas Watson, Heaven Taken By Storm, (Ligonier, PA: Soli Deo Gloria, 1992), pp. 78-79.
17 Christopher Love, Heaven's Glory, Hell's Terrors, (London: John Rothwell, 1655), p. 118.
THE TERRORS OF HELL
by William C. Nichols

"So it will be at the end of the age; the angels shall come forth, and take out the wicked from among the righteous, and will cast them into the furnace of fire; there shall be weeping and gnashing of teeth" (Matthew 13:49-50).

The doctrine of hell is one of the most neglected doctrines in all of Scripture. When hell is mentioned today, it is generally ridiculed, as if the whole idea of hell were so old-fashioned that only the naive and ignorant would really believe that such a place actually exists. This is not hard to understand. Natural men hate the idea of being held accountable for their lives to a holy God, because they love sin and do not wish to part with it. The carnal mind throws up objection after objection to the idea of hell because it does not want to face the reality of it. Men live their lives thinking that maybe if they ignore a difficulty long enough, it will go away. Even conservative religious leaders are now attacking hell. Let men do what they will, the frivilous objections of the foolish will not do away with hell.
Amid the clamour to annihilate hell, those who believe the Bible to be true must stand and speak. Your consideration of the terrors of hell may be one of the most important things you can do in this life. "Then he who hears the sound of the trumpet, and does not take warning, and a sword comes and takes him away, his blood will be on his own head" (Ezekiel 33:4). Please, I implore you, invest the time it takes to read this chapter and book to the end.
Why should we be so concerned about hell? Why should we spend time reading about hell? There are several reasons why it is profitable to do so:
1) Hearing about the terrors of hell may shock your conscience and awaken you out of your false security.
2) Hearing about hell helps to deter men from committing sin. Both the godly and the ungodly are persuaded not to sin as much when they are regularly reminded of the terrors of hell.
3) Hearing about the terrors of hell may help to awaken those among us who may think they are saved because they believe in Christ or the facts of the gospel, but who are not really saved and are on their way to hell, but don't know it.
4) Preaching the doctrine of hell is profitable to both the godly and the ungodly alike, as will be demonstrated.
Why aren't people fearful of hell? There seems to be a real lack of fear today of the reality of hell. This applies to both those who are in the church and those who are in the world. People are not afraid of hell. Why?
You would not be afraid of a lion when it is only painted in a picture upon a wall. Why is this? Because it is only a picture. You know that it is not real. But if you were left alone in a jungle and came face to face with a real lion that growled ferociously at you, you would be terrified. The consciences of men are much like the man who only views the painted lion. We hear of hell in the Bible. We know that the Lord Jesus spoke of hell. In fact, Christ spoke more of hell than anyone else in the Scriptures. Why do men not believe hell is real? Because they do not hear enough about it. We don't study what the Scriptures say about hell. It is not just what we hear which makes up what we believe, it is what we don't hear as well which helps to form our belief system. Only the Spirit of God can present the terrors of hell to our hearts in such a way as to see them alive before us. The doctrine of hell has been used by God more often to the conversion of sinners than any other doctrine in the Scriptures. Pray now that as you read this chapter the Holy Spirit will set hell before you as real indeed.

THE NECESSITY OF HELL
Most who scoff at hell today probably do so for several reasons. Primary among them is a desire to pursue their own paths of sin without having their consciences troubled about the consequences of their actions. They do not want to hear that what they are doing is wrong. They do not want to hear that their sin will be punished. I can hear someone say, "But isn't eternal torment in hell inconsistent with a merciful and loving God? How could a good God punish people in hell forever?" A misunderstanding of the character of God and the nature of sin can easily lead to such questions. Why is hell necessary? Let us examine several reasons for the necessity of hell.
1) The Great Evil in Sin and the Holiness of God. The difficulty most people have in understanding the necessity of hell is related to an incomplete and inadequate understanding of both how awful sin is and how glorious God is. We do not see what a great evil is in the least sin, nor do we understand God's holiness, His justice, and His wrath. If we saw sin as the greatest evil in the world and realized that every sin is a rejection of God's rule over us, a sneering at Him, a shaking of our fist in His face, and a hurling of dung at Him, we would begin to understand a small bit of what our sin is like to God. Every time we sin, we either set ourselves, or a pet lust, up in our hearts as a rival god. Sin rejects the Creator as God and sets up the creature in His place.
If we could comprehend God's holiness and what it means to be holy, pure, perfect, upright, and untainted by the least sin, we would have a better idea of why God hates sin so much. Absolute holiness cannot tolerate the least sin, "Thine eyes are too pure to approve evil, and Thou canst not look on wickedness with favor" (Habakkuk 1:13). If we could understand the glorious holiness and purity of God and also the abominable nature of sin more, then we would have no problem with the absolute necessity of hell.
"The heart is more deceitful than all else and is desperately sick; who can understand it?" (Jeremiah 17:9). The human heart is sick. The human heart is wicked. The human heart is deceitful. The corruption in the heart causes us to be deceived about the awfulness of sin as well as many other things.
2) God's Infinite Nature. In understanding what our sin is really like, we must view it through the eyes of God. God is an infinite, eternal being. Every act of sin is committed against an infinite, holy God. In every act of sin we dethrone God and set ourselves above God. In every sin this question is the issue, "Whose will shall be done, God's will or man's? Now, man by sin sets his own will above the Lord's, and so kicks God as filth under his feet."1 A single act of sin committed against a holy, infinite God deserves infinite punishment. It is an infinite evil to offend an infinite God even once.
3) Divine Justice. Even one sin against God calls for God to vindicate His name and His justice by punishing it as fully as it deserves. God can and will vindicate His justice. He promises to do so in Romans 12:19 where it says, "leave room for the wrath of God, for it is written, `Vengence is mine, I will repay, says the Lord.'" One of the greatest preachers that ever lived, Jonathan Edwards, wrote, "The glory of God is the greatest good; it is that which is the chief end of creation; it is of greater importance than anything else. But this is one way wherein God will glorify Himself, as in the eternal destruction of ungodly men He will glorify His justice. Therein He will appear as a just governor of the world. The vindictive justice of God will appear strict, exact, awful, and terrible, and therefore glorious."2

A DESCRIPTION OF HELL
Hell is a furnace of unquenchable fire, a place of everlasting punishment, where its victims are tormented in both their bodies and their minds in accordance with their sinful natures, their actual sins committed, and the amount of spiritual light given to them, which they rejected. Hell is a place from which God's mercy and goodness have been withdrawn, where God's wrath is revealed as a terrifying, consuming fire, and men live with unfulfilled lusts and desires in torment forever and ever.
In Matthew 13:47-50 the Lord Jesus tells a parable relating to the judgment. In verses 49-50, the Lord describes the fate of the wicked: "So it will be at the end of the age; the angels shall come forth, and take out the wicked from among the righteous, and will cast them into the furnace of fire; there shall be weeping and gnashing of teeth."
In examining these words of the Lord Jesus we should first notice that hell is described as being a furnace of fire. Nebuchadnezzar's furnace was heated seven times hotter than normal and is described as "a furnace of blazing fire" (Daniel 3:23). John the Baptist spoke of "unquenchable fire" and Revelation describes hell as "a lake of fire burning with brimstone" (Revelation 19:20). Can we really imagine the horror of which these words speak? Imagine every part of your body on fire at the same time, so that every fiber of your being felt the intense torment of being burned. How long could you endure such punishment? Christ tells us that "there shall be wailing and gnashing of teeth." The lost will wail and gnash their teeth from having to endure the most intense pain and suffering they have ever felt as the flames consume them and constantly burn every part of their bodies. And there will be no relief.
Jonathan Edwards describes in graphic language what the fires of hell will be like: "Some of you have seen buildings on fire; imagine therefore with yourselves, what a poor hand you would make at fighting with the flames, if you were in the midst of so great and fierce a fire. You have often seen a spider or some other noisome insect, when thrown into the midst of a fierce fire, and have observed how immediately it yields to the force of the flames. There is no long struggle, no fighting against the fire, no strength exerted to oppose the heat, or to fly from it; but it immediately stretches forth and yields; and the fire takes possession of it, and at once it becomes full of fire. Here is a little image of what you will be in hell, except you repent and fly to Christ. To encourage yourselves that you will set yourselves to bear hell-torments as well as you can, is just as if a worm, that is about to be thrown into a glowing furnace, should swell and fortify itself, and prepare itself to fight the flames."3
Hell is also described as a place of darkness. The Lord tells us of the guest without wedding clothes who was cast "into outer darkness" (Matthew 22:13). Jude writes of those in hell "for whom the black darkness has been reserved forever" (Jude 13). Christopher Love says in his work Hell's Terrors: "darkness is terrible, and men are more apt to fear in the dark then light: hell is therefore set forth in so terrible an expression, to make the hearts of men tremble; not only darkness, but the blackness of darkness".4
Hell is compared to Tophet in Isaiah 30:33. Tophet was the place where the idolatrous Jews sacrificed their children to the heathen god Molech by casting them into the fire. Day and night shrieks and howls were heard in that place, as day and night shrieks, howls, and wailing are heard in hell.
Isaiah speaks of "the breath of the Lord, like a stream of brimstone" setting hell ablaze. There is good evidence from the Scriptures that God Himself will be the fire in hell. Hebrews 12:29 says, "Our God is a consuming fire." The ungodly on earth ignorantly dance for joy when they hear pastors speak about the love and mercy of God, but they will be the beneficiaries of neither, unless they repent. To them God will be an all consuming fire. Hebrews 10:30-31 warns: "For we know him who said, `Vengence is Mine, I will repay,' And again, `The Lord will judge His people.' It is a terrifying thing to fall into the hands of the living God." It is a fearful thing, it is a terrible thing to fall into the hands of the living God! You shall not escape hell, sinner. God will be your hell and His wrath will consume you and be poured upon you as long as He exists. "Who understands the power of Thine anger?" (Psalm 90:11). It is because God Himself will be the fire in hell that words cannot possibly express the terrors of the damned in hell. "There is no reason to suspect that possibly ministers set forth this matter beyond what it really is, that possibly it is not so dreadful and terrible as it is pretended, and that ministers strain the description of it beyond just bounds...We have rather reason to suppose that after we have said our utmost, all that we have said or thought is but a faint shadow of reality."5
In Luke 16:19-26 Christ tells us of two men. One of them was rich (he has traditionally been called Dives); the other man was poor (his name was Lazarus). Both men died. The poor man was carried by angels to heaven and the rich man went to hell. The rich man did not go to hell because he was rich, nor did the poor man go to heaven simply because he was poor. The Lord shows us through this contrast that our circumstances may change drastically when we pass from time into eternity. We are not to be fooled that just because God may not have dealt harshly with us here, that he will not do so after death. The eternal abiding place of both men resulted from the condition of their hearts before God, while they were on earth. Lazarus was a true follower of God. Dives was not. We want to carefully note what the Scriptures tell us about Dives and his condition, for from that we may learn much about hell. Verses 23-24 indicate to us that Dives is "in torment." What does it mean to be "in torment?" This torment refers to both torment in body and torment in soul as well. As we have seen, men's bodies will be tormented in a furnace of fire. Every part of the body will feel the pain of that fire. Men with severe stomach pains can be in great agony from that alone, but this pain will be far greater. Death from cancer is sometimes said to cause extreme pain in the body, but the pain of hell will be far worse. If your body were afflicted with many different and painful diseases all at the same time, you still would not begin to approach the pain of the damned in hell.
Men's consciences shall be in torment in hell as well. Conscience is the worm that will not die which the Scriptures speak of (Mark 9:48; Isaiah 66:24). Dives is told to "remember that during your life." Men will be tormented with extreme pain, but they will also be tormented by their own memories. They will remember hearing of hell and scoffing at it. They will remember being warned and told to repent or told that accepting the blessings of heaven without submitting to Christ as Lord falls short of salvation, but they took no heed to those warnings. They will be tormented by seeing at a distance the glories of heaven (as Dives was able to do), and knowing that for all eternity they will be damned. They will be tormented by unfulfilled desires and unfulfilled lusts (Dives is not able to receive even a drop of water to cool his tongue). They will be tormented by the knowledge that they will never escape from hell (Dives is told that "neither can you pass to us"). They will be tormented by the cries, shrieks, and curses of the damned around them. The most extreme torments a man can experience on earth will be like flea bites compared to the torments of hell.
Jonathan Edwards speaks of men unable to find even a moment of relief in hell in his sermon on The Future Punishment of the Wicked: "Nor will they ever be able to find anything to relieve them in hell. They will never find any resting place there; any secret corner, which will be cooler than the rest, where they may have a little respite, a small abatement of the extremity of their torment. They never will be able to find any cooling stream or fountain, in any part of that world of torment; no, nor so much as a drop of water to cool their tongues. They will find no company to give them any comfort, or do them the least good. They will find no place, where they can remain, and rest, and take breath for one minute: for they will be tormented with fire and brimstone; and they will have no rest day nor night forever and ever."6

THE ETERNITY OF HELL
The most terrifying aspect of all about hell is its length or duration. Hell is eternal. Hell will last forever. Can you comprehend eternity? No mathimatical equation or formula can explain it. Your mind cannot conceive of eternity, but it is none the less real. This aspect of hell alone should cause men to cry out in repentance. It is not surprising that skeptics of all ages have attacked the eternal nature of hell, substituting doctrines like the annihilation of the wicked in its place. Let us look at the Scriptures to verify the eternal nature of hell and to try and understand eternity better. Then we will explore why hell must be eternal.
"And the devil who deceived them was thrown into the lake of fire and brimstone, where the beast and the false prophet are also; and they will be tormented day and night forever and ever" (Revelation 20:10). This verse clearly gives us the duration of hell. Hell is forever and ever. How could a stronger, more certain expression be used? If the Spirit of God wanted to communicate the eternal nature of hell to men what could communicate it better than the expression "forever and ever?" The Scripture has no higher expression which is used to denote eternity than "forever and ever" for it is the very phrase used to tell us of the eternal existence of God Himself, as in Revelation 4:9: "to him who sits on the throne, to Him who lives forever and ever." Does anyone doubt that God will live to all eternity? How then can you doubt that hell will not last to all eternity when the same expression is used for both?
"We can conceive but little of the matter; but to help your conception, imagine yourself to be cast into a fiery oven, or a great furnace, where your pain would be as much greater than that occasioned by accidentally touching a coal of fire, as the heat is greater. Imagine also that your body were to lie there for a quarter of an hour, full of fire, and all the while full of quick sense; what horror would you feel at the entrance of such a furnace! and how long would that quarter of an hour seem to you! And after you had endured it for one minute, how overbearing would it be to you to think that you had to endure the other fourteen! But what would be the effect on your soul, if you knew you must lie there enduring that torment to the full for twenty-four hours...for a whole year...for a thousand years! Oh, then, how would your hearts sink, if you knew, that you must bear it forever and ever! that there would be no end! that after millions of millions of ages, your torment would be no nearer to an end, and that you never, never should be delivered! But your torment in hell will be immensely greater than this illustration represents."7
Christ, describing the great day of judgment, tells of the separation of the wicked and the righteous using these words: "And these will go away into eternal punishment, but the righteous into eternal life" (Matthew 25:46). Is there anyone who would deny that heaven exists eternally? Will the lives of the blessed in heaven be brought to an end one day? Of course not. But the same Greek word is used here in this verse to speak of the eternal life of the righteous and the everlasting punishment of the wicked. Hell will last as long as heaven does.
In hell there will be different degrees of torment appointed to men as indicated by a number of Scriptures. Luke 12:47-48 says: "And that slave who knew his master's will and die not get ready or act in accord with his will, shall receive many lashes, but the one who did not know it, and committed deeds worthy of a flogging, will receive but few." Christ says in Matthew 11:24: "Nevertheless I say to you that it shall be more tolerable for the land of Sodom in the day of judgment, than for you." The verses in Matthew indicate that the people in Capernaum will receive a greater punishment on judgment day than those who had lived in Sodom. The verses in Luke speak of a differentiation in judgment based on the amount of light received: some will receive many stripes and others will receive few.
Those who commit greater sins than others or more sins than others will receive greater punishment in hell (John 19:11). Religious hypocrites, those who profess Christianity but are not real Christians, will be punished more severely than others (Matthew 23:14-15). The Lord said of Judas Iscariot, "It would have been good for that man if he had not been born" (Matthew 26:24). How could any of these things be said to be true if annihilation were what awaited men after death? The presence of different degrees of punishment only makes sense in light of the ability to sensibly feel the torment. Could it be said that it would have been better for Judas if he had never been born if annihilation was all that awaited him? Annihilation is like no punishment at all.
Each time the unbeliever sins he is adding to his torment in hell. The person who sins twice as much as another with similar light will receive twice as much punishment. Every day that sinners continue to live and breathe here on earth without repenting, they are adding to their torments in hell. Romans 2:5 tells us: "But because of your stubborness and unrepentant heart you are storing up wrath for yourself in the day of wrath and revelation of the righteous judgment of God." The Lord Jesus encouraged the righteous to lay up treasures in heaven rather than on earth. The wicked are increasing their future wrath and torment in hell every day by their continued sinning. They add to their punishment daily. In hell men will wish that they had never been born.
Charles Haddon Spurgeon said: "In hell there is no hope. They have not even the hope of dying--the hope of being annihilated. They are forever--forever--forever lost! On every chain in hell, there is written "forever". In the fires there, blaze out the words, "forever". Above their heads, they read, "forever". Their eyes are galled and their hearts are pained with the thought that it is "forever". Oh, if I could tell you tonight that hell would one day be burned out, and that those who were lost might be saved, there would be a jubilee in hell at the very thought of it. But it cannot be--it is "forever" they are cast into the outer darkness."8
Christopher Love uses an illustration to try and help us understand what eternity means: "Suppose all the mountains of the earth were mountains of sand, and many more mountains still added thereto, till they reached up to heaven, and a little bird should once in every thousand years take one (grain of) sand of this mountain, there would be an innumerable company of years pass over before that mass of sand would be consumed and taken away, and yet this time would have an end; and it would be happy for man, if hell were no longer than this time; but this is man's misery in hell, he shall be in no more hope of coming out after he hath been there millions of years, then he was when he was first cast in there; for his torments shall be to eternity, without end, because the God that damns him is eternal."9
Earlier we looked at the necessity of hell or why there must be a place like hell. Now we will look at why hell must not only exist, but why it must exist eternally. Why is it necessary that hell be eternal? There are several answers to this which we shall explore briefly.
The first reason we will look at is the one mentioned by Christopher Love in the passage just quoted. The God who damns men is an eternal God. "Ultimately the eternality of hell is based upon the nature of God."10 Is God's Word eternal? Is God's nature eternal? The Scripture tells us: "Jesus Christ is the same yesterday and today, yes and forever" (Hebrews 13:8). "His righteousness endures forever" (Psalm 111:3). "The Word of the Lord abides forever" (I Peter 1:24). If God's Word is eternal, if God's righteousness is eternal, if God Himself is eternal, then why shouldn't His wrath be eternal as well? As eternally existent, all of God's attributes are eternal and immutable; therefore, hell, as an expression of God's wrath, must be eternal.
Hell must be eternal because God's justice could never be satisfied by the punishment of sinners no matter how long it lasts. Christ makes this clear when He speaks about settling with your accuser before you get to court, otherwise you shall be cast into prison and "I tell thee, thou shalt not depart thence, till thou hast paid the very last mite" (Luke 12:59). Man can do nothing to pay for his sins. No amount of punishment in hell, no matter how long, can ever atone for sins. It is impossible; therefore, hell must be eternal.
Thirdly, hell must be eternal because the Scriptures tell us that the worm which gnaws the conscience of men in hell never dies. "For their worm shall not die, and their fire shall not be quenched" (Isaiah 66:24). If the worm never dies, then those being tormented by the worm shall never die.
Lastly, hell will be eternal because men continue to sin in hell. They increase and compound their guilt there. Hell is a place where tormented men curse God, curse themselves, and scream and wail with blasphemous language at their fellow men around them. Wicked men will increase each other's torments as they accuse, blame, and condemn one another. Men will not repent in hell because the character of sinners does not change. They remain sinners. Men will sin to eternity, therefore, God will punish them eternally.

APPLICATION TO BELIEVERS AND UNBELIEVERS
The Old Testament prophets warn us repeatedly of the dangers of hell: "Who among us can dwell with everlasting burnings?" (Isaiah 33:14, KJV). "Who can stand before His indignation? And who can endure the burning of His anger? His wrath is poured out like fire" (Nahum 1:6). Sinner, are you so arrogant as to think you can bear the wrath of God poured out in full measure upon you? You may think that hell is not so hot and that you will be able to bear it quite well. If you believe that you are more than a fool. The terrors of hell cause the devils to tremble and are you so foolish as to be unmoved by them or make light of them?
Do not think that simply because you go to church, or believe in God, or believe intellectually in the truths of Christianity that you will escape hell. The majority of those who regularly attend churches every week, all over the world, will go to hell. Thomas Shepard, pastor and founder of Harvard University, wrote: "Formal professors and carnal gospelers have a thing like faith, and like sorrow, and like true repentance, and like good desires, but yet they be but pictures; they deceive others and themselves too...most of them that live in the church shall perish."11
You who profess to be Christians, but do not read your Bible much and pray little: how shall you escape the damnation of hell? You who are not especially bothered by little sins or troubled by the vain and filthy thoughts which you have: are you ready to go to hell? You who think the kingdom of God consists in a verbal profession of Christ or intellectually believing that Jesus died for your sins, but who are not concerned with living a holy, godly life and give little or no thought to God during the week: are you prepared to endure the torments of hell, day and night, forever and ever? You had better be, because if these things are true of you, you are headed straight for hell, unless you repent. Do not delude yourself! Christianity does not consist in words, or pious statements, or mere intellectual belief, but in a new heart and a new life dedicated to not sinning and living for the glory of God. If your heart and life have not been changed by God, you are still in your sins. If you are living in known disobedience to the word of God and are unconcerned about it, you have no right to assume you are going to heaven: you are on your way to hell! Repent of all your sins and turn to Jesus Christ and surrender to Him as Lord. Listen to the words of Christ: "If your eye causes you to stumble, pluck it out, and throw it from you. It is better for you to enter life with one eye, than having two eyes, to be cast into the fiery hell" (Matthew 18:9). "Nothing short of the complete denying of self, the abandoning of the dearest idol, the forsaking of the most cherished sinful course--figuratively represented under the cutting off of a right hand and the plucking out of a right eye--is what He claims from every one who would have true communion with Him."12 But remember, the difficulty involved in forsaking all for Christ is nothing compared to spending eternity in hell.
I do not believe anyone can be scared into heaven, but I do believe they can be scared away from hell, so that they might begin to seek God with all their hearts, and to beg Christ to have mercy on them. Men stand on the brink of the pit of hell and are ready to fall headlong into it and yet they are completely unaware they are in any danger. If hearing about hell can cause otherwise senseless men to consider eternal truths, then preaching about hell is valuable indeed. It is better to view hell now, while you are living, and be terrified by it, than to have to endure hell forever when you die.
I would not have you to be more afraid of hell than of sin. Sin is your real enemy. Sin is worse than hell because sin gave birth to hell. Would you be willing to go to hell for all eternity for the enjoyment of a little pleasure and lust here on earth? Flee from sin! Flee from living for self and self-pleasing to Jesus Christ. When you die it will be to late. All opportunity to repent ends at death.
This doctrine is useful to the godly as well as the ungodly. The doctrine of hell should stir up within the righteous a fear of God. A godly fear is useful in many ways. The one who has a fear of God in his heart has a greater respect for the commandments of God. He who truly fears God will not fear men and would rather displease men than God (Isaiah 8:12-13). This doctrine should increase your faithfulness and joy in Christ that you have been delivered from the torments of hell and should likewise increase your love for Christ who endured the wrath of God upon the cross for you.
The doctrine of hell should stir up within you a fear of sin. It should cause us to fear even little sins and be careful to confess and forsake sins of the heart and thought life also. Let the doctrine of hell keep you from the practice of sin.
The doctrine of hell should help the godly to be patient under all outward, temporary afflictions which come to them. No matter how great your afflictions are in this world, they are far less than the torments of hell from which the Lord has freed the godly. You may have to undergo lessor torments while on earth, but remember they are only temporary and you have been freed from the greatest of all torments so you may rejoice even in a time of affliction.
This doctrine is useful to motivate you to tell others of the message of Christ. Eryl Davies wrote in his book The Wrath of God: "The eternity of hell's sufferings should make us the more zealous and eager to tell people of the only One who is able to rescue them. Do we shrink from declaring these solemn truths? Does the thought of hell displease us? Remember that God will be glorified even through the eternal sufferings of unbelievers in hell. His injured majesty will be vindicated...What is supreme in the purpose of God in the election and reprobation of men is His own glory, and hell also will glorify the justice, power, and wrath of God throughout eternity. In the meantime it is our responsibility to pray and work for the salvation of sinners before such awful punishment overtakes them."13
I cannot leave without one final word to those who think they are converted, but are not; and also, to those who know themselves to be unconverted. Can you conceive of eternity? Stop now and try to imagine being tormented unceasingly, forever, without end. Does this not terrify you? Never a chance for a moment's rest. Never a drop of water to cool your parched throat. Think again of how long eternity is. Try to imagine it: day and night, forever and ever, burned with fire like a spider in a furnace of flames. Shrieking, howling, wailing, cursing the day you were born, and being cursed by the devils and damned souls around you eternally. Remembering, forever remembering, how you were warned on earth and how you ignored those warnings: self-satisfied and self-deceived that all was well with your soul. Job's wife told him to curse God and die. Unless you repent and flee to Jesus Christ, who is your only hope, you shall curse God eternally and be tormented by Him in His presence in the awful fullness of His wrath, and you shall never die. You shall never die. You shall never die! Eternity is forever!

1 Thomas Shepard, The Works of Thomas Shepard, Volume 1, (New York: AMS Press, 1967), p. 94.
2 Jonathan Edwards, The Works of Jonathan Edwards, Volume 2, (Edinburgh: Banner of Truth, 1974) p. 87.
3 Ibid, p. 82.
4 Christopher Love, Hell's Terrors, (London: T. M., 1653), p. 19.
5 Jonathan Edwards, The Works of Jonathan Edwards, Volume 2, (Edinburgh: Banner of Truth, 1974) p. 884.
6 Ibid, p.80.
7 Ibid, p. 81.
8 Charles Haddon Spurgeon, The New Park Street Pulpit, Volume 1, (Grand Rapids: Baker Book House, 1990), p. 308.
9 Christopher Love, Hell's Terrors, (London: T. M., 1653), pp. 54-55.
10 John Gerstner, Heaven and Hell, (Grand Rapids: Baker Book House, 1991), p. 77.
11 Thomas Shepard, The Works of Thomas Shepard, Volume 1, (New York: AMS Press, 1967), p. 58.
12 A. W. Pink, Studies in the Scriptures, January 1932, p. 18.
13 Eyrl Davies, The Wrath of God, (Mid Glamorgan, Wales: Evangelical Press of Wales, 1984), p. 59.
The Glory of Heaven and The Terrors of Hell were copyrighted in 1992 by William C. Nichols. You may download this text for your own personal use. Should you desire additional printed copies of either The Glory of Heaven or The Terrors of Hell you may obtain them from: International Outreach, Inc., P. O. Box 1286, Ames, Iowa 50014. We also have other tracts and books available. Also please visit our other sites The Torments of Hell, Revival Sermons of Jonathan Edwards, and Suicide: Gateway to Peace?
International Outreach, Inc.
P. O. Box 1286, Ames, Iowa 50014 USA
e-mail: wnichint@aol.com